Principal Report
Congratulations to all the Williamstown High School community, students, families and staff for your positive attitude and efforts this term. Term 2 has been quite busy with both a range of activities and end of semester assessments taking place. It has been nice to see the return of Breakfast Club, large scale music camps and concerts, Immersion presentations (with families present), Morrisby career assessments and end of term in-person campus celebration assemblies amongst others. Please enjoy reflections on these throughout this edition of the W-Files. I would also like to encourage all families to discuss and reflect on the student reports acknowledging achievements as well as discussing and supporting goal setting for improvements.
Attitudes to School Survey
As previously mentioned, our students have recently completed the Attitudes to School Survey. We recently received the reports summarising these responses and the leadership team will now look at what our students have told us in terms of their perceptions and how they are feeling about their wellbeing and learning. The leadership team not only looks at identifying focus areas for improvement but also reflecting on highlights to ensure these practices are embedded and continue.
It was quite pleasing to see the students reporting they felt quite safe at school. However, they reported they are not always clear on how the school responds to bullying concerns. This is excellent feedback for the leadership team, which will look at ways to make the school response more visible (posters, homegroup activities, year-level discussions, etc.) while still maintaining privacy. An example of some other areas the survey obtains student feedback on are: stimulating learning, attitude to attendance, sense of confidence, belonging and connectedness, motivation and self-regulation. Similar surveys are conducted for parents/carers and staff and these are all analysed yearly with actions put in place to continually improve our complex but positive school environment.
Building Update
As you are aware, the Victorian Government investment of $1.37m together with the school's locally raised investment of $2.1m has been allocated to upgrade Williamstown High School, including upgrading the Year 12 study centre and completing the school's theatre complex (total project cost of $3.47m).
The project was forecast for completion in May 2022. However, due to suspected issues with the construction, works were paused to allow an independent structural engineer to investigate.
In March 2022, the independent structural engineer reported to the Victorian School Building Authority (VSBA) that our new buildings were not constructed in accordance with the contract, nor with legislative and regulatory requirements. The VSBA then removed the builder from the project, took control of the construction site, and launched a detailed investigation to determine the best path forward for our school. That detailed investigation is now complete.
The VSBA will now be commencing works to remediate the identified issues, resume construction of the new buildings, and complete our planned upgrade. A builder has been appointed for early works, with the project to be completed around the end of the year. We will work closely with the VSBA to ensure the timely delivery of this project under the circumstances.
If you have any questions about the works, you can phone the VSBA on 1800 896 950, email vsba@education.vic.gov.au or visit www.schoolbuildings.vic.gov.au/williamstown-high-school
I would like to take this opportunity to thank the school community for your patience and support as we have worked through this issue. I sincerely appreciate it and am now excited we will be finalising this project by the end of the year ready for students in 2023 and beyond.
2021 Award Winners
Due to the (COVID-related) delay in students receiving their Year 12 results at the end of last year we were unable to acknowledge award winners at our graduation evening. During last year's event at the Williamstown Town Hall, all Year 12 students were celebrated for their achievements and were sent off with some key messages and best wishes. On the night we committed to welcoming back all subject award winners (when COVID rules allowed), as well as the 90+ATAR medal winners, to formally acknowledge their achievements with the presentation of certificates, medals and plaques. We also took the opportunity to present our dux, Julian McIntyre, a plaque for his state-wide equal highest possible ATAR of 99.95. Former families and students who were able to attend, over 80 in total, were very appreciative of the event and pleased we fulfilled our commitment.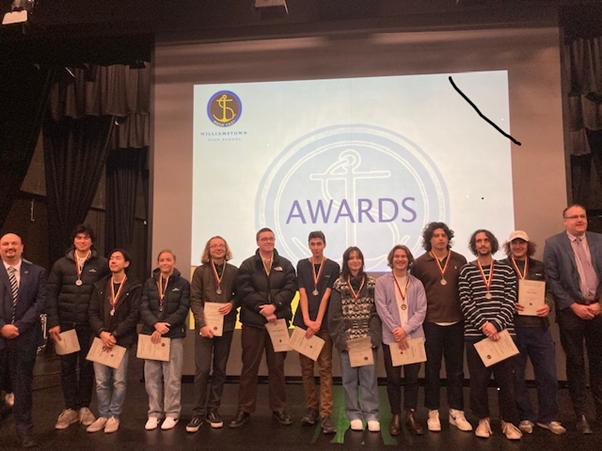 "Thanks so much for organising a night to celebrate the academic achievements of the 2021 Year 12s. We are so proud of them for striving for such excellence in challenging circumstances". Photo and comment from 2021 Year 12 parent

I wish you all a relaxing, enjoyable and safe holiday break, and look forward to seeing all our students and staff eager and refreshed when we all return to school for the start of Term 3.
Holdfast.