ABOUT RESPECTFUL RELATIONSHIPS

The Respectful Relationships initiative teaches our children how to build healthy relationships, resilience and confidence. It also supports school leaders, educators and our school communities to promote and model respect and equality.
Respectful Relationships supports students to develop the knowledge, understanding and skills to strengthen their sense of self, and build and manage safe and respectful relationships. It takes a whole-school approach, recognising that schools are a place of learning, a workplace and a key part of local communities. It embeds a culture of respect and equality across our entire school community, from our classrooms to staffrooms, sporting fields, camps/excursions and social events.
This approach leads to positive change in students' academic outcomes, their wellbeing, classroom behaviour, and relationships between teachers and students. We know that changes in attitudes and behaviours can be achieved when positive attitudes, behaviours and gender equality are lived across the school community.
Together, the school community can lead the way in creating genuine and lasting change so every student has the opportunity to achieve their full potential.
RESPECTFUL RELATIONSHIPS AT WILLIAMSTOWN HIGH SCHOOL
At Williamstown High School the Respectful Relationships initiative was introduced in 2018 and we were identified as a lead school in 2020. As a lead school we model whole-school practice, as well as lead, mentor and support a cluster of partner schools by providing best-practice advice on the implementation strategies alongside modeling respect, equality and inclusivity.
Inclusivity statement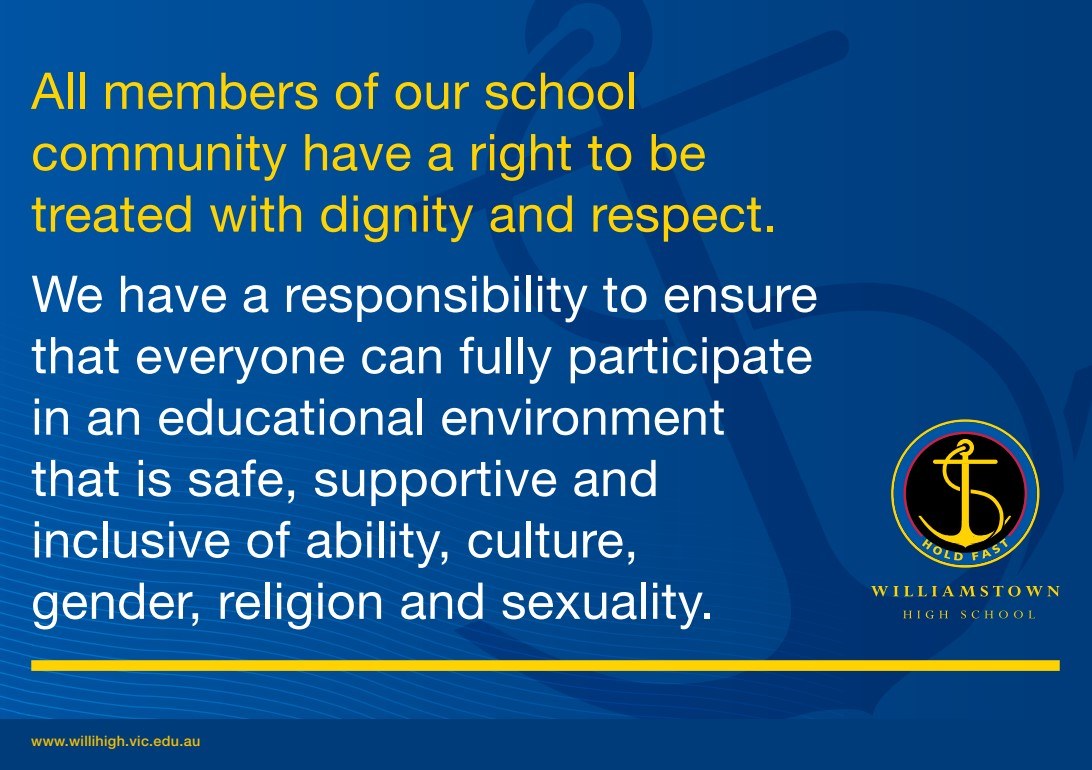 In The Classroom
Respectful Relationships is taught through the health and Homegroup Curriculum. The supporting Resilience, Rights & Respectful Relationships teaching and learning resources are aligned to the Victorian Curriculum. The activities that are taught include activities that help students learn and practice social skills leading to students applying them in a positive way to learning, life and relationships.
The Resilience, Rights & Respectful Relationships resources cover eight topics for each year level.
Topic 1: Emotional Literacy
Topic 2: Personal Strengths
Topic 3: Positive Coping
Topic 4: Problem Solving
Topic 5: Stress Management
Topic 6: Help-Seeking
Topic 7: Gender and Identity
Topic 8: Positive Gender Relations
INCURSION PROGRAM AT WILLIAMSTOWN HIGH SCHOOL
We have a whole school incursion program which has activities specifically aligned with the 8 Respectful Relationship Topics, as well as other Social and Emotional Learning content such as Consent, SWPBS, Careers and Resilience Project. Each incursion will have a pre and post lesson to consolidate learning for students. An Overview of the incursion program for 2022 can be found at the bottom of this page. The incursion program is evaluated on an ongoing basis to ensure it is meeting the specific needs of students at Williamstown High school and the whole school community.
Incursion Overview
INCLUSION AT WILLIAMSTOWN HIGH SCHOOL

Williamstown High School respects all individuals and will continue to support all students, including lesbian, gay, bisexual, trans and gender diverse, intersex, queer and questioning (LGBTIQ+) students, to ensure they are provided with a safe and inclusive learning environment. To continue our focus on providing an environment that is safe for all students we are focused on consolidating our commitment to inclusion for all. This includes:
Providing professional learning for all staff including professional learning delivered by Safe Schools focussed on the provision of a safe and inclusive environment and ensuring respectful interactions for all members of the school community.
Developing a consistent whole school approach to bullying including the development of bullying flow chart, providing professional development for all staff to ensure consistency
Providing cyber safe talks for parents and the community
Embedding programs within homegroup curriculum
Embedding our 'Inclusion statement' that highlights our commitment to a discrimination free learning environment for all.
Continuing partnerships with Safe Schools. The Safe Schools program helps schools foster a safe environment that is supportive and inclusive of LGBTIQ+ students. It recognises that creating a safe and inclusive environment is key to tackling bullying and harassment, and preventing suicide and self-harm.
More information regarding safe schools can be found at:
https://www.education.vic.gov.au/about/programs/Pages/safeschools.aspx?Redirect=2
Developing a partnership with Minus18. Williamstown High School will be working with Minus18 to provide workshops and training within the school community. Minus18 are an organisation that focuses on Social Inclusion, Education and Advocacy; and Youth Empowerment.
More information regarding Minus 18 can be found at:
BE THE CHANGE, BE AN UPSTANDER