Principal Report

Dear Williamstown High School families,
Welcome to this month's edition of the W-Files. Students have been busily participating in a range of intra and interschool events, some of which include debating, robotics, Maths Week, sporting competitions, LOTE and NAIDOC weeks, and a number of musical events including the VET organised War Child charity concert. All of this while maintaining a relentless focus on their academic studies as well as involvement in 2023 counselling and subject selection.
We want our students to grow and excel in all areas, and this underpins our drive and purpose to provide students with a broad range of extracurricular activities. We have utmost confidence that this will best develop the student as a whole.


Below is a gallery of images from WARchild and NAIDOC week smoke ceremony.


Curriculum Day

At our most recent Curriculum Day the focus was on Student Engagement and Wellbeing. External presenters in the morning session explored how to help students develop a growth mindset.
Sessions 2 and 3 focused on Tier One behaviours, with areas looked at including how teachers play a significant role in creating positive classroom and school environments, highlighting at all times that behaviour is the focus and not the individual, and modelling positive language to use during these interactions. As a collective we restated our shared responsibility to create a safe space, looking at different scenarios, holding restorative conversations with all staff employing consistent responses. Our behaviour expectations of "Be Safe, Be Respectful, Be a Learner" underpin our beliefs in this area.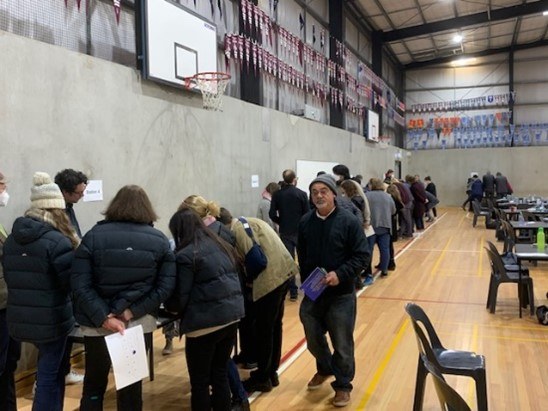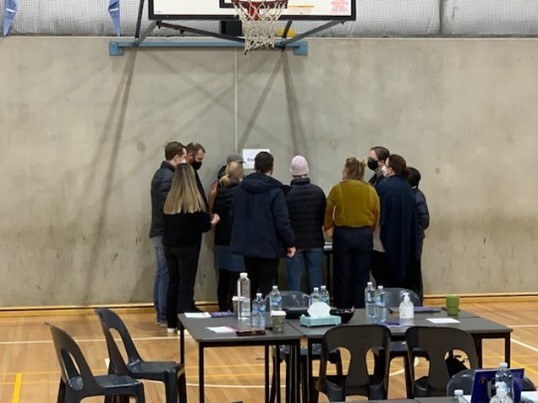 Professional Practice Day (PPD)
Due to difficulties in finding relief teachers during the current COVID environment, the Department of Education and Training has allowed schools to once again hold this term's PPD on a common day with classes not running and students working from home. We found in Term 2 that this provided a positive opportunity for students and staff to finalise assessments, complete tasks and prepare other work. This term's PPD will be held on Thursday, September 1, with further details to be sent out by the campus principals.
Willi High Student Wins Top Honour
Congratulations to Julian McIntyre, who has been recognised with a Premier's VCE Award for his outstanding academic results in 2021. Julian received a Study Award for English. The annual awards recognise the top-performing students in the state. David Urwin and I represented the school and were in attendance to acknowledge this significant achievement. The entire Williamstown High School community is proud of Julian and we congratulate him on being the recipient of such a prestigious award.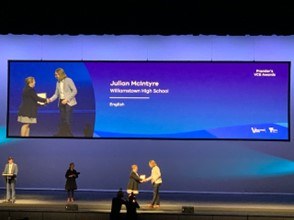 Recent Achievements
Some significant achievements by former students and current staff have come to our attention highlighting what a wonderfully talented community we have. I would like to formally congratulate the following individuals on behalf of the WHS community:
Former student Kallan Dawson for recently debuting for North Melbourne in the AFL

Former student Abby Zappa for receiving the significant Alumnae Awards Scholarship at the Women's College, University of Queensland

Former Bayview student Celeste Mucci on representing Australia in this year's Commonwealth Games

Bayview welfare coordinator Ann Hyland on receiving a 40 years of service recognition award from the Department of Education and Training

Geography teacher Simone Barlow on winning the 2022 Alex Lyne Fieldwork Award from the GTAV for her entry: Investigating the causes and impacts of air pollution on Melbourne's Inner West. VCE Geography Unit 1 AOS 1 Hazards and Disasters: Air Pollution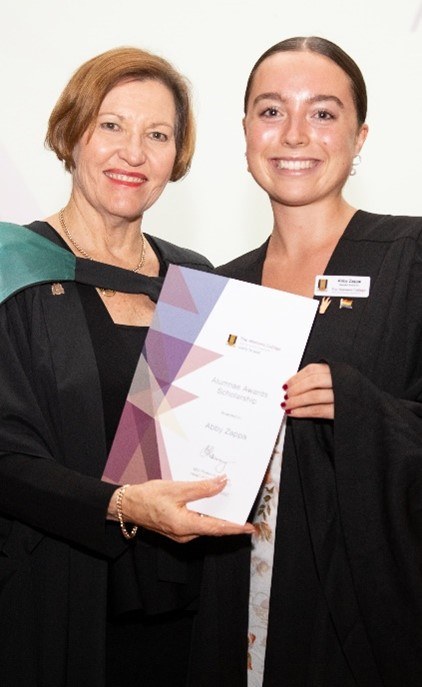 Staff Wellness and Wellbeing Week
The Department of Education and Training has an increased focus on principal and staff wellbeing within schools. There is a strong correlation between staff wellbeing, a positive school environment and climate, and student success. Williamstown High School has developed - and staff have actively engaged in - a Staff Wellness and Wellbeing Week for a number of years now.
Across the week at each campus, staff participate and enjoy a range of activities including having a coffee van on site, shared lunches, after school exercise and meditation activities, and anonymous "buddies" to dole out acts of gratitude and small gift giving. Students also get involved by sending notes of appreciation to staff members. This was all very well received and appreciated, with the WHS community benefitting from the building and maintaining of a positive and supportive working environment.
Therapy Dog

This term we welcomed WHS's very first fully qualified therapy dog, Lexie. It has been proven that therapy dogs can help individuals develop social skills, teach empathy and improve skills with human relationships. Lexie has passed Class 6 in obedience training and is also a promotions dog with the Rottweiler Club of Victoria. She has attended Moomba and several Dog Lovers Shows over the past few years, which attracts thousands of visitors wanting to pat and cuddle this amazing breed. Lexie is visiting our students once per week from Monday, August 1. Welcome Lexie!