WHS Instrumental Music Program
The study of music fosters intellectual, physical and emotional development. In addition to teaching students to play their instruments, playing music develops teamwork, commitment and study skills, and bestows upon students a unique musical experience from which they will benefit for the rest of their lives.
'Music nurtures the soul…'
Williamstown High School provides students with an Instrumental Music Program that has been developed over many years. The program enables students to develop skills and expertise across a range of fields, providing a valuable co-curricular experience across both campuses.
Music Lessons:
Music students attend weekly lessons with our qualified and talented music staff. Lessons sizes range from one to four students. These lessons are held during class time; times are alternated weekly to ensure students are not repeatedly missing the same class. Regular home practice is expected to ensure maximum skill development.
Bands and Ensembles:
To further develop skills, we offer ensemble rehearsals. All students undertaking wind, percussion and bass guitar instrumental music lessons are required to participate in a concert band (or percussion ensemble for yr 7 students) that suits their level of learning. Students undertaking Vocal and Guitar lessons are required to participate in the Vocal and/or Guitar Ensemble. Students who take lessons out of school are welcome to apply to take part in one of our ensembles. Held weekly before or after school, these rehearsals are an essential and compulsory component of the program.
Students are required to participate in one or more of the following ensembles:
Wind players, bass guitarists and percussionists: Junior, Intermediate or Senior Concert Band.
Guitarists: Guitar Ensemble.
Vocalists: Vocal Ensemble.
Students may also choose to participate in one of the following:
Stage Band (by audition), Flute Ensemble and Percussion Ensemble.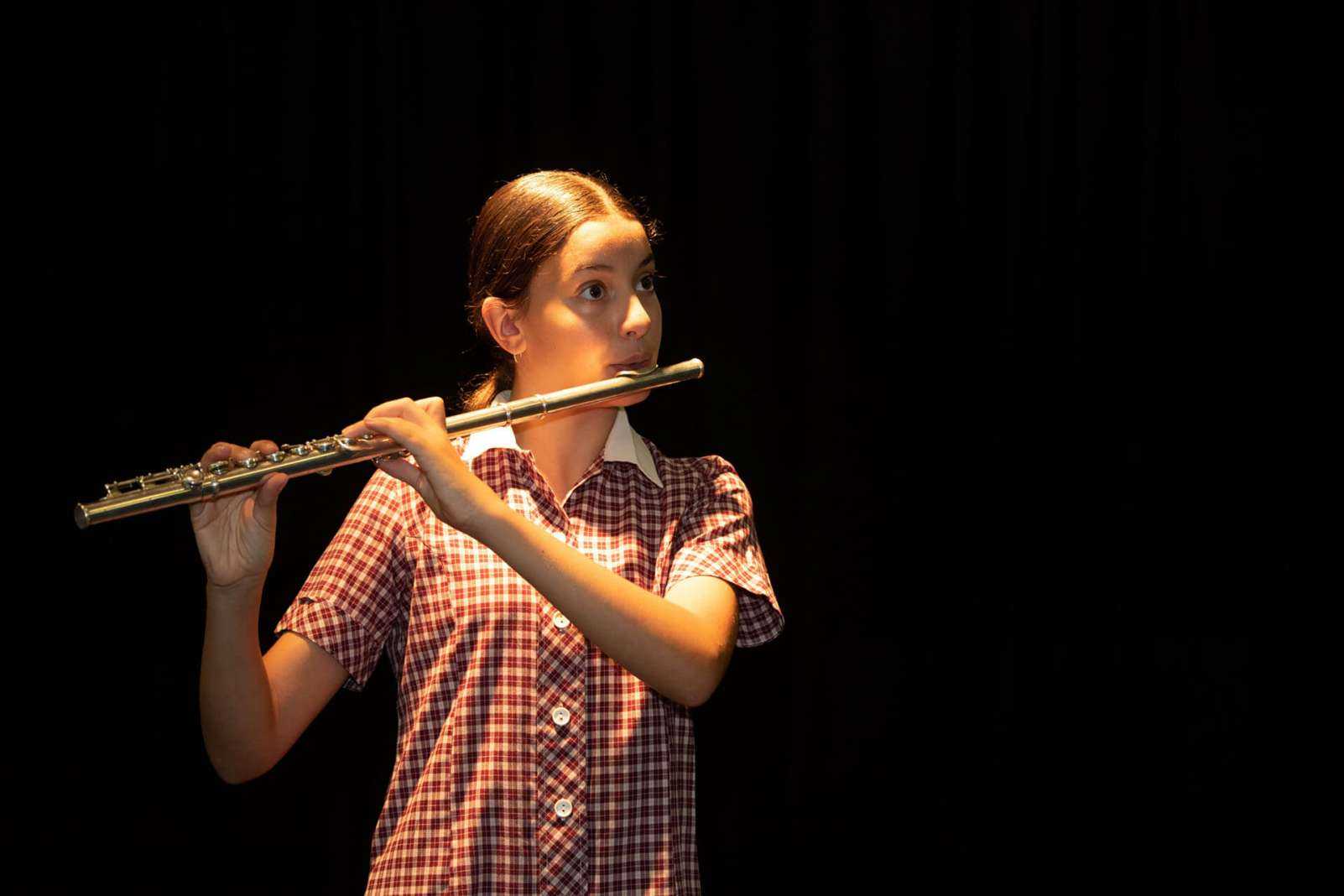 Performances:
Our students participate in regular performances. Musical items are often required for school assemblies, open days, local community events and special activities. Highlights include our annual Spring Concert, Spring Soiree and Warchild benefit concert. Other performance activities may include visits to local primary schools, local festival performances, participation in State Schools Spectacular and collaboration with Orchestra Victoria.
Music Camps and Tours:
WHS students have participated in music camps or tours every year since the program was developed. Music camps take place in regional Victoria and students have toured around central Victoria, Canberra, Tasmania, South Australia and New Zealand.
Instruments Offered:
Flute, clarinet, trumpet, french horn, baritone horn, trombone, bass guitar, saxophone, percussion (includes drum-kit), tuba, voice and guitar.
Fees:
The Instrumental Music Program is run on a non-profit basis and relies on the subscription of its participants. The lesson and hire fees are very reasonable when compared to private tuition and external suppliers.
Explanation of charges:
Full subscription $560
Wind instruments/bass guitar/percussion lessons and involvement in an ensemble
Ensemble only $280
Just involvement in an ensemble rehearsal (for those taking lessons outside of school)
Wind instruments and bass guitar hire $215
Saxophone Hire $260
Vocal Individual lessons (at VCE level only if available) and involvement in ensemble $880 (per semester)
Vocal Group lessons and involvement in ensemble $460 (per semester)
Guitar Group lessons $460 (per semester)
Guitar Individual lessons (at VCE level only if available) and involvement in ensemble $920 (per semester)
Accelerated Program:
Many Year 7 students who are in the accelerated program also learn an instrument. These students often find that participating in the Music Program complements their other academic endeavors. Year seven SEAL students will be learning an instrument as part of the SEAL Band Class Program during semester 1. There is no need to fill in an application form unless students would like to learn an additional instrument.
How to decide which instrument to choose?
Our wonderful students have put together a short video to help you decide which instrument to play, please click here to view this presentation.
How to Apply:
If you and your child would like to be a part of our Instrumental Music Program, the link​ below will take you to the online application form:
Please click here to access the application form
If students are allocated a place in the program, you will be issued with an email confirmation.
---
We look forward to working with your children next year!
Further Information
If you have any queries please contact either of our two Music Directors: