Principal Report
Welcome to this month's edition of the W-Files. Despite the challenges we continue to face with COVID, and particularly the impact this has had on both student and staff absences due to being unwell or isolating, Term 1 has seen our school programs and environment continue to return to pre-COVID conditions.
We saw the return of both the swimming sports and athletic carnivals, and events such as Harmony Day, International Women's Day, Transvisibility Day and World's Greatest Shave were conducted. Our senior student newspaper, Hold Fast, resumed production and distribution. School tours also recommenced but in a modified COVID-safe format, with plans in place for our school Open Night next term. Sporting and theatre organisations resumed the hiring and use of our school community facilities. And camps, excursions and incursions have taken place, including a highly engaging and powerful VCAL incursion. Please enjoy reading about some of these events and the photos taken of them in this edition of the W-Files.

School Council Elections
I am pleased to announce the 2022 WHS School Council Members. The Department of Education positions are occupied by new council member Cory Duker and returning member Jesse Craig. Joining our returning parent representatives Kane Harnden, Jake Mansfield and Matt Clarkson are newly elected members Ingrid Magtengaard, Meriel O'Sullivan, Natalie Goroncy and Emma Harris. We also warmly welcome our newly elected student representative, Ethan Hammon from Year 8, who will work with Connor De Petro from Year 12, who still has one year remaining on his tenure.I would like to thank all parents, students and staff for engaging positively in the nomination process. We also welcome the student leaders and Parents and Friends member Elizabeth Cushion, who attend school council meetings to provide reports from their associated teams. I would like to acknowledge and congratulate Kane Harnden, who has been nominated and elected as our School Council president for this year. Ingrid Magtengaard has accepted the role as vice president and Jake Mansfield will take on the position as treasurer.
Statement of Inclusivity
To build upon the school's three values of 'Be a learner, Be respectful and Be safe', a statement of inclusivity is being developed to ensure that all members - students, staff and parents - are safe and supported at school. The original statement, taken from the student engagement and wellbeing policy was refined with input and feedback from the student leadership groups at Pasco and Bayview before being shared with staff for feedback.
During Week 8 and 9 the statement was shared and unpacked with all students from Year 7 to 12 in year-level assemblies, giving students the opportunity to provide feedback on the statement. The statement of inclusivity will appear on the school website, in classrooms and be unpacked and discussed in assemblies and home group lessons. The statement of inclusivity is more than words - it is a statement that we can and will live by as a school and will use in our everyday language. We have set a timeline for the end of Week One, Term 2, to have this finalised and visible.

Year 9 Immersion Lobbying
One of the highlights of this term was the lobbying by a group of Year 9 Immersion students around improving the sporting facilities at the Bayview Campus. This included updating basketball rings and outdoor table tennis facilities, addressing the issue of the potholes on the oval (our oval is shared with Hobsons Bay City Council and we have asked them to address this issue) as well as improvements to our asphalt and synthetic courts by including introducing ball barriers.
I was extremely proud and impressed with the presentation and the lobbying by Ollie, Hunter, Eammon, Brandon and Keenan, and they had obviously heard about my passionate football allegiances as I had no choice but to lock in my commitment once they put up their final slide highlighting the result from the night before. Well done and hopefully you will see some immediate minor improvements as well as longer-term, major upgrades to, as you suggested, benefit year levels of students to follow.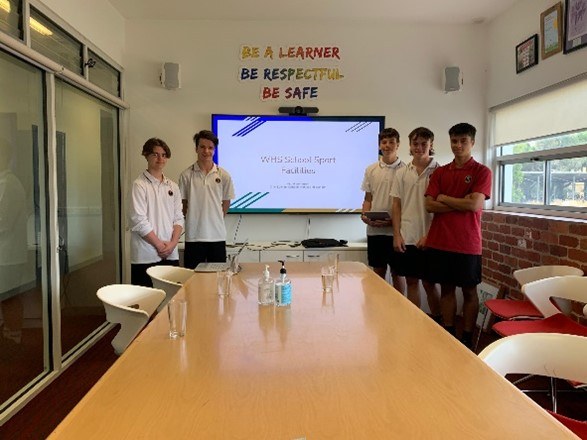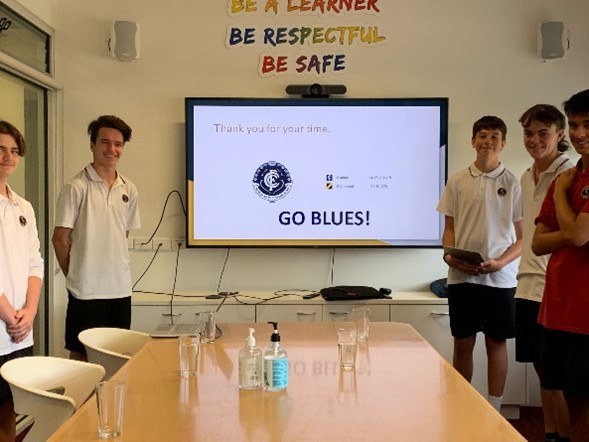 New Four-Year Strategic Plan and Curriculum Day
Our 2022-2025 Strategic Plan has now been finalised and is available for the community to see on our new school website. The three key broad goals the school will focus its improvement work on over the four years are stated as well as some targets and key improvement strategies. In each year of the four-year plan we will develop an annual implementation plan, which will highlight the key actions and activities we are putting in place in response to these goals. This document will be finalised by the end of this term and will also be available for viewing on our website early in Term 2.
With these priorities in mind, I am pleased to say that staff participated in professional learning during the Term 1 curriculum day building on our literacy knowledge and pedagogy as well as participating in a well-received and engaging session from safe schools focused on strategies and experiences that lead to a safe and inclusive environment.
Principal's Writing Competition

I am proud of the WHS Principal's Writing Competition and look forward this year to reading our students' interpretations of the theme "Duality", which has great potential to be explored in a variety of ways. The Principal's Writing Competition highlights the importance of building and promoting literacy skills across the school and all entrants will be judged using a set criteria assessing elements such as text structure and vocabulary, which underpin our current whole-school literacy focus.
This year we have an exciting range of prizes on offer. As well as the honour of having their names inscribed on the Principal's Writing Competition honour board at their respective campus, winners will receive a host of exciting prizes including a tote bag filled with reading and writing gifts, an invitation to attend the Melbourne Writers Festival. Excitedly, for the first time, there will be an overall, Principal's Pick major prize in the form of an iPad awarded to one student from the Pasco campus and one student from the Bayview campus.
"The pen is mightier than the sword" is a powerful motto, and with great eagerness I look forward to reading the collection of stories that aim to prove this true.